Compare gas & energy prices in the Netherlands
Are you looking for a new energy supplier? EasySwitch.nl is here to help you! We are one of the best energy comparison websites in the Netherlands. We help you compare all the energy providers on the market. Whether you're completely new to the Dutch energy market or just looking to switch to a cheaper energy supplier, you'll be done within 15 minutes!
Compare gas & energy prices
100% Laagste prijs garantie
Als kritische consument ben je natuurlijk op zoek naar zekerheid. Wij vinden dat je daarvoor nooit verder hoeft te zoeken dan EasySwitch.nl. Daarom garanderen wij de laagste prijs. Daar werken we elke dag keihard voor. Vind je het energiecontract later toch ergens goedkoper? Dan betalen we het verschil terug! Scheelt jou weer een flinke speurtocht.
How does the Dutch energy market work
Since 2004 the Dutch energy market has been completely liberalised. Currently over 25 energy suppliers are licensed to offer gas and electricity. As a consumer you are free to choose the supplier that best fits your needs. With so many options, finding the right energy provider can become quite a task. Therefore, the usage of a energy comparison website will save you a lots of time.
How to compare energy providers?
EasySwitch.nl is here to help you compare energy suppliers and make an informed decision. What matters to you most? Are you only interested in the lowest price? Or would you prefer an energy provider that mainly supplies green energy? Whatever your needs or wishes may be, EasySwitch.nl will enable you to make the right decision.
Use our energy comparison tool
Currently our energy comparison tool is only available in Dutch. That shouldn't stop you from using it though. Follow this simple guide and you'll be able to compare suppliers and find the one that best suits your specific needs. Another option is to use Google Translate. However, the last option isn't as accurate as this guide.

Compare energy
Step 1 – Your energy usage
To compare the different energy prices we will need (an estimate of) your yearly usage. Find your usage on last year's energy bill.
Not sure what your usage is?
Use one of our estimates by clicking on the icon that best matches your household. We calculate these estimates using the average usage in the Netherlands. It's also possible to compare suppliers for gas and electricity seperately.

Step 2 – Your basic information
The second step is filling in your basic information. We only need your postal code and house number. Any additions to your house number can be added in the same box.

Step 3 – Your current supplier
Select you current energy supplier in the drop-down list. You can find your supplier on your latest energy bill. If you currently don't have a supplier, select 'Weet ik niet/niet van toepassing' (None). That's the first option on the list.

Step 4 – Compare energy suppliers
After filling in the form, click on the orange button 'Vergelijk energieprijzen'. This wil lead you to the next page, where all energy suppliers are ordered by price. Make use of the filter options to further select the supplier that suits you best.
Compare energy suppliers – your filters:
Soort energie: geen voorkeur – duurzaam: Do you want green energy (duurzaam) or are you also okay with grey energy (geen voorkeur)? Green electricity is produced from sources that do not cause harmful effects on the environment. The electricity is generated by wind, water and sunlight. Grey electricity is produced from sources that have a negative impact on the environment. These sources include gas, coal and nuclear energy.
Energietarief: geen voorkeur – vast – variabel: Variable (variabel) or fixed prices (vast). With a variable price the supplier can change the rate during your contract. Most suppliers change these rates twice a year. A fixed rate will remain set for the duration of your contract. We recommend you chose the fixed (or 'vast') rate. This way you won't be surprised by any changes in the tariff. And you're comparing all suppliers on what you spend on a yearly basis. If you do not have a preference, you can select no preference (geen voorkeur).
Looptijd contract: geen voorkeur – 1 jaar – 3 jaar – 5 jaar – onbepaalde tijd
What do you want the duration to be of your contract? We recommend a 1 year contract (1 jaar), so you can profit from contracts with discount each year. If you do not have a preference you can select no preference (geen voorkeur) and if you want a contract for undetermined time, you can select onbepaalde tijd.
Prijsinformatie: prijs per jaar – prijs per maand
Do you want to know the prices per year (prijs per jaar) of per month (prijs per maand)?
Other filters include contracts with a present (aanbieding met kado), freely terminable contracts (vrij opzegbaar contract) and show products that are not available (toon niet beschikbare producten).
Step 5 – Pick your energy supplier
After filtering the energy suppliers, it's time to pick one. The list of suppliers contains information to help you decide. When you've made your decision click 'vraag nu aan' to apply.


Note: Your list of suppliers will be different based on your yearly usage and basic information.
Translation
Tarieven & kosten – Rates and prices
Plus en minpunten– Pros and cons
Beoordeling: – Reviews
Vraag nu aan – Apply
Step 7 – Fill in your information
On the next page fill in your basic information, check the box to accept our 'Terms and conditions' and click 'Bevestigen' (confirm). Now you have signed up with your new energy supplier. Up to 14 days after your confirmation e-mail, you're free to cancel the contract if you change your mind.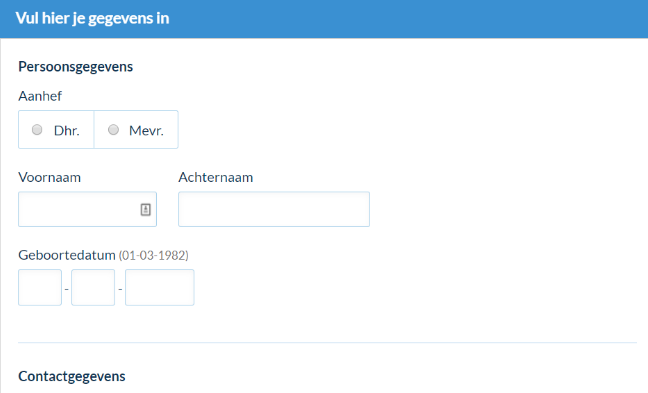 Translation
Aanhef: Dhr./Mevr. – Male/female
Voornaam– First name
Achternaam – Surname
Geboortedatum – Date of birth
E-mailadres – E-mail address
Telefoonnummer – Telephone number
Ga je verhuizen of ben je onlangs verhuisd? – Are you relocating or have you just moved?
Leveringsadres – Delivery address
Ik wil de post op een ander adres ontvangen – I want to receive my mail on a different address
Rekening- of IBAN nummer – Account number
Naam rekeninghouder – Name of accountholder
Ingangsdatum – Effective date
Zo snel mogelijk – As quickly as possible
Bevestigen – Confirm
Bevestig aanvraag – Confirm order
Frequently asked questions
What do I need to do after switching to a new energy supplier?
We'll send your application to your new energy supplier. This supplier will inform your former supplier about the switch and as a result your former contract will be terminated. Basically, you won't need to do anything at all.
Do I need to inform my former energy supplier of the switch?
No, that's not necessary. Your new supplier will do this for you. After switching energy suppliers with EasySwitch.nl you won't need to do anything else.